Glenn Trembley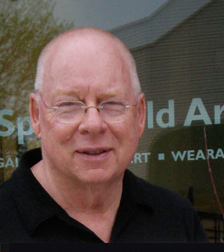 In the late 1960s, I developed an interest in glass as a hobby.  While living in Arkansas, my wife, Margie, the other glass artist in the family, started me working in stained glass objects.  In the late 90's, she rekindled this latent interest by having me take a class in basic etching.
That class set the hook. My involvement has led me to a desire to meld etching with fusing.  Working with glass is like the game of golf; you never stop improving your techniques.  I am in awe of the opportunities available in glass art.  There is a level of anticipation and excitement that comes from opening the lid of a kiln to see what changes took place during an overnight firing.
Today I would describe my artistic style as contemporary eclectic.  Each piece I create is unique unto itself.  I simply want my work to be admired for what it is, something to enjoy day after day.
To follow Glenn on Facebook, visit his page by clicking here:
Glass Art by Glenn